Cube Houses (Kubuswoningen)
From: Rotterdam, Netherlands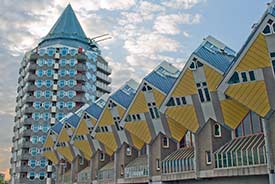 ABOVE: Rotterdam's Kubuswoningen are next to the Blaaktoren, or "Pencil Tower." Both buildings were designed by architect Piet Blom.
By Durant Imboden

Rotterdam has a long tradition of modern architecture: Its Witte Huis or "White House" was the tallest building in Europe when it went up in 1898, and the Rotterdam Tourist Office boasts about its architects the way Liverpool brags about the Beatles. Still, when the late architect Piet Blom came up with a proposal for his Kubuswoningen or "Cube Houses" in the 1970s, more than a few Dutch eyebrows were raised.
Blom saw each cube-shaped dwelling as a "treehouse" or "polehouse" in a forest, or as a modular component in an urban village that would combine private and public functions such as housing, small businesses, a playground, and a school. He built his first batch of 21 cube houses in the town of Helmond from 1975 to 1977. A year later, Blom presented his concept for the Rotterdam Kubuswoningen. Construction began in 1982, and the project was completed in 1984.

Each Kubuswoning is built in the shape of a tilted block, with living quarters on several levels and exterior walls that tilt downward to face the ground or upward to face the sun. Windows and skylights open, and each dwelling even has a small balcony.
After a quarter of a century, a significant number of the original occupants still live in the Cube Houses, and the odd-shaped but surprisingly spacious dwellings continue to attract adventurous Rotterdammers who are willing to live without Granny's armoire or rectilinear wall systems from Ikea.
Visiting the Cube Houses
There are three ways to see the interior of a Cube House:
By making friends with a resident (not very practical, unless you get lucky with a "Looking for a Cube House buddy" ad on Craigslist).

By booking a bed at Stayokay Hostel Rotterdam, a Hostelling International youth hostel that opened in the Kubuswoningen in 2009.

By paying a small fee to visit the Kijk-Kubus, or "Show-Cube," a model dwelling outfitted with custom furniture (designed by the museum director) and several exhibits about the project and its history.
For "Show-Cube" visitor information, see page 2 of this article. For a gallery of captioned photos, go to page 3.
1st inset photo copyright © placetobe.
2nd inset photo copyright © LyaC.