Kinderdijk Cruise
From Rotterdam to Kinderdijk and back on the excursion boat Nehalennia
From: Rotterdam, Netherlands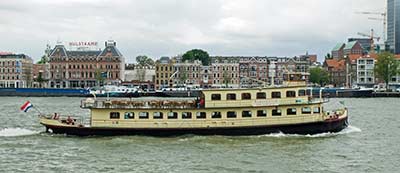 ABOVE: The vintage cruise boat Nehalennia returns from a three-hour cruise to the windmills at Kinderdijk. INSET BELOW: Two of Kinderdijk's 19 historic windmills, a canal sightseeing boat passing a windmill, and a view of Rotterdam's waterfront from Nahelennia.
By Durant Imboden

Kinderdijk, a village near Rotterdam, is home to the largest collection of windmills in the Netherlands. Nineteen windmills--mostly from the mid-1700s--stand in neat rows along an L-shaped drainage canal, where they pumped water from the surrounding polders (areas of land below sea level that are protected by dikes) until steam and electric pumps offered more reliable protection against flooding.

Since 1997, Kinderdijk has been on UNESCO's World Heritage List, and the windmills in their park-like setting are one of South Holland's most popular tourist attractions.
Although you can get to Kinderdijk by car, public bus, guided tour, or fast ferry from Rotterdam, there's an even more pleasant way to reach the windmills: on the Nehalennia, an old-fashioned excursion boat that cruises between Rotterdam and Kinderdijk for most of the year.
About the cruise:

You'll board Nehalennia in central Rotterdam, spend an hour or so cruising up the Nieuwe Maas River to Kinderdijk, disembark at the windmills for about 60 minutes of independent sightseeing, then return to the city on the boat.
The excursion takes three hours (give or take a few minutes), and it offers a chance to see life along the scenic river--including barge and boat traffic--as you go to and from Kinderdijk.
To plan a cruise to Kinderdijk, read our Practical Information on page 2 of this article. (The page also includes links to other Web resources.)
To view captioned pictures of the Nehalennia boat cruise and the windmills at Kinderdijk, see our Photo Gallery, which begins on page 3.