In English-speaking countries, glass artisans are often performer-pitchmen at craft shows and festivals, where they blow glass baubles for a few dollars or pounds each.
However, there was a time when the trade of glassblowing--indeed, glassmaking in general--was an elite pursuit dominated by craftsmen in the Venetian Republic, most notably on the island of Murano in the Venetian Lagoon.
"Supplying quality glass products since 1291"
Murano was a commercial port as far back as the 7th Century, and by the 10th Century it had grown into a prosperous trading center with its own coins, police force, and commercial aristocracy.
Then, in 1291, the Venetian Republic ordered glassmakers to move their foundries to Murano because the glassworks represented a fire danger in Venice, whose buildings were mostly wooden at the time.

It wasn't long until Murano's glassmakers were the leading citizens on the island. Artisans were granted the right to wear swords and enjoyed immunity from prosecution by the notoriously high-handed Venetian state.
By the late 14th Century, the daughters of glassmakers were allowed to marry into Venice's blue-blooded families. (This was roughly equivalent to Archie Bunker's daughter being invited to wed a Cabot or a Peabody.)
---
---
Such pampered treatment had one catch: Glassmakers weren't allowed to leave the Republic.
If a craftsman got a hankering to set up shop beyond the Lagoon, he risked being assassinated or having his hands cut off by the secret police--although, in practice, most defectors weren't treated so harshly.

What made Murano's glassmakers so special? For one thing, they were the only people in Europe who knew how to make glass mirrors.
They also developed or refined technologies such as crystalline glass, enameled glass (smalto), glass with threads of gold (aventurine), multicolored glass (millefiori), milk glass (lattimo), and imitation gemstones made of glass.
Their virtual monopoly on quality glass lasted for centuries, until glassmakers in Northern and Central Europe introduced new techniques and fashions around the same time that colonists were emigrating to the New World.
Commerce, art, and kitsch
Murano is still an exporter of traditional products like mirrors and glassware, and its factories produce modern items such as faucet handles, glass lampshades, and electric chandeliers.
At the retail level, there's a growing emphasis on art glass and--most important of all--the souvenir trade.

Visit the ubiquitous glass shops on Murano or in Venice, and you'll find countless paperweights, glass beads and necklaces, knickknacks, and items of glass jewelry.
Some items are amusing: e.g., colored fish in transparent glass aquariums, or wrapped hard candies of multicolored glass. Others are pretty--glass necklaces and beads, for example.
Still others are "hideous," in the words of Jan Morris, who adds:
"The Venetians still profess to find Murano glass lovely, but sophisticates in the industry, if you manage to crack their shell of salesmanship, will admit that bilious yellow is not their favorite color, and agree that one or two of the chandeliers might with advantage be a little more chaste."
To be fair, Murano's artisans do produce beautiful works of contemporary art from glass, although some of the designs are by foreign artists.
Visit  the better galleries and showrooms on Murano, and you'll find works that are technically and aesthetically stunning. Also, don't miss the island's glass museums and leading churches.
To plan your trip to Murano (which is only a few minutes from central Venice by public waterbus), scroll through this guide and browse our menu of related content at the bottom of the page.
---
Glass museums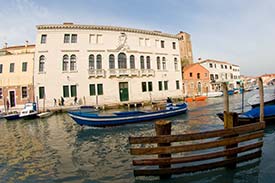 ABOVE: The Museo Vetrario, or Glass Museum, is on the Canale San Donato, just around the corner from the Museo waterbus stop.

Murano's fascinating Museo Vetrario, a.k.a. the Glass Museum or Museum of Glass, offers a century-by-century tour of Venetian glassmaking.
The city-owned museum is located in the Palazzo Giustinian near the island's center.
It has samples of glass from Egyptian times through the present day, and the displays show how the art and manufacture of glass developed over the centuries.
Reaching the museum: The Museo Vetrario is on the Fondamenta Giustinian, between the Museo Actv (waterbus) stop and the Basilica of Santi Maria e Donato.
As you get off the boat at Museo, turn right, follow the fondamenta or canal sidewalk around the corner, and continue a short distance to the museum.
Accessibility: A staircase leads to the museum galleries, but a wheelchair lift is due to be installed at some point in the future. (E-mail [email protected] for current details.)
For up-to-date information, including ticket prices, see the English-language Museo del Vetro Web site.
The Barovier & Toso Museum
Barvovier & Toso, a long-established glassmaking dynasty and manufacturer of art glass on Murano, has a private museum with some 250 objects in the Palazzo Contarini (a.k.a. the Palazzo Borovier & Toso) on the Fondamenta Vetrai.
It also has an archive with more than 22,000 drawings, photos, and other documents related to glass.
The Palazzo and the museum were open daily from 10 a.m. to 5:30 p.m. the last time we checked. See the Palazzo page of the Barovier & Toso Web site for more information.
---
Murano Glass Factories

ABOVE: V.I.A.'s glass furnace on Murano. INSET BELOW: A factory showroom, the V.I.A. factory entrance, and a barge filled with waste glass.
Public factory visits
The most interesting glass factories and ateliers on Murano aren't open to visitors, for two reasons:
They're in the business of making glass, not entertaining tourists;

Master glass artisans have spent years refining their proprietary techniques and don't want competitors taking notes.
Still, as you walk around Murano, you're likely to find mass-market fornaci or furnaces that welcome tourists. The V.I.A. factory is a good example:

From the Colonna waterbus stop, turn left as you exit the boat platform and walk along the water until you reach a "Fornace Glass" sign on a door below the Calle S. Cipriano street sign, pass beneath the entrance sign, follow the sidewalk, and enter the building to view a glassmaking demonstration for a small fee that can be credited against a purcase from the factory's shop.
The demonstration takes less than 10 minutes, but it's interesting if you haven't seen a glass furnace.
Tips for visiting:
Look for open factories on weekday mornings. Don't count on much action during the lunch hour (which can run from noon or 1 p.m. until mid-afternoon).

In Venice, you're likely to be approached by representatives of touristy factory showrooms that offer free boat trips to Murano. If you accept, be prepared for a high-pressure sales pitch. (We'd recommend getting to Murano by public transportation, which is quick, easy, and pressure-free.)

If you're a serious glass collector or buyer, you may be able to visit some of the more artistic fornaci by appointment. we'd suggest making arrangements through a gallery, dealer, or decorator who has contacts in Murano.

To phone or correspond with workshops directly, buy Michela and Nicoló Scibilia's Comprehensive Guide to the Island of Murano (see page 8 of this article) and use the listings in its "Production" chapter as a starting point for your planning.

Glass factories are normally closed for maintenance during August, though a few tourist-oriented demonstration furnaces may stay open. (Check with the Venice tourist office during your visit.)

Due to a massive spike in the cost of natural gas, many of the island's furnaces have been shut down recently, and it's unclear how soon--if ever--all of the the dormant fornaci will be fired up again. This could make it harder to find glass factories that are offering public demonstrations.
---
Sightseeing on Murano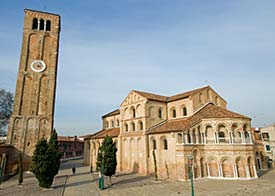 ABOVE: The Basilica dei Santi Maria e Donato and its bell tower.
Churches
Nearly all of Murano's churches were torn down and replaced by housing or glass factories during the French and Austrian occupations (1797-1866). Today, only four churches remain, and two are open to visitors.
The Basilica dei Santi Maria e Donato is the island's top sightseeing attraction, and it's one of the oldest and most interesting churches in the Venetian Lagoon.
 The Venetian Byzantine building is deceptively simple in outward appearance, except for the colonnaded apse facing the Canale San Donato.
Inside is a different story: The richly-decorated interior has a lovely marble-and-mosaic floor that was laid in 1141, around the same time as the similar floor in Venice's Basilica di San Marco.
Another key architectural feature is the mosaic dome in the apse, which dates to the 12th Century and shows the Virgin Mary against a simple gold background.
The bell tower (see top photo) is separate from the church.
Visiting hours are 8-12 and 4-7 Monday through Saturday and 3:30-7 p.m. on Sundays. The basilica is on the Campo San Donato, just up the canal from the Museo Vetrario (Glass Museum).
Murano's other important church is the Chiesa di San Pietro Martire, on the Campiello Michieli across from the Campo Santo Stefano in the middle of the island (just south of the bridge across Murano's main canal).
 The church was first built in 1437, reconstructed in 1509 after a fire, and decorated with paintings by artists such as Veronese, Giovanni Bellini, Bartolomeo Letterini, and Domenico and Jacopo Tintoretto.
San Pietro Martire isn't nearly is pretty as Santi Maria e Donato, but it's worth a walk-through, and you can visit the adjacent sacristy and museum if you're a fan of church and human relics.
Other sights

The Campo Santo Stefano is notable for its  19th Century clock tower, which was built on the foundations of a bell tower from a 12th Century parish church. (The church is long gone, though its decaying oratorio is still standing.)
You'll see a handful of other ancient palazzi and houses as you explore the island, along with plenty of brick glass factories and other industrial buildings from the 19th Century.
---
Shopping
Buying Murano glass

Glass is why most people come to Murano, and there's no shortage of retail outlets (including factory showrooms) on the island.
If you're a casual buyer, you won't need a shopping guide: Just look in display windows, browse in shops that look interesting, and buy whatever strikes your fancy.
If you're serious about Venetian and Murano glass, we'd strongly recommend buying one or more of the books reviewed elsewhere in this article.
Our favorite guidebook, Michela and Nicoló Scibilia's Comprehensive Guide to the Island of Murano, has an entire chapter devoted to glass factories, ateliers, and showrooms that specialize in products ranging from traditional chandeliers and mirrors to modern art glass, and from various styles of beads to stained glass, murrines, and mosaics.

Gianfranco Tosa's Murano: A History of Glass, provides a detailed overview of and Venetian and Muranese glassmaking techniques from the 10th through the 20th Centuries.

Carl I. Gable's Murano Magic is another useful resource for glass collectors.
More tips:
Not all "Murano glass" is from Murano. Some dealers--especially souvenir shops--try to pass off cheap Chinese counterfeits as the real thing. Look for the "Vetro Murano Artistico" trademark decal in the windows of shops and showrooms that sell authentic Murano glass, unless you're just looking for a cheap souvenir and don't care about its provenance.

If you run out of time while shopping on Murano, don't panic: Venice has innumerable shops and galleries that sell authentic Murano glass, jewelry made from Murano beads, etc.

Caveat emptor: Glass shops in Murano and Venice can ship products to your home, but if the glassware arrives broken, filing a claim or getting a replacement can be a nuisance. (Consider yourself forewarned.)
Other types of shops
Unless you're shopping for glass, there isn't much reason to shop on Murano, with these few exceptions:
A handful of tourist shops and newsstands sell guidebooks, postcards, camera supplies, and souvenirs.

The InCoop supermarket and shopping center on the Fondamenta dei Vertrai, just north of the Colonna waterbus stop, is a convenient place to buy groceries, drinks, and other necessities.

Two pharmacies can supply remedies for headaches, blisters, etc.

On certain days of the week, you'll see produce barges scattered along Murano's canals. If you have a craving for fresh lettuce or artichokes, head for the nearest floating vegetable stand.
Many shops and showrooms close for lunch at 12:30 or 1 p.m. and don't reopen until anywhere from 2 to 3:45 p.m. Weekend hours vary: Tourist-oriented shops are likely to be open on Saturdays and Sundays, while showrooms and galleries that cater primarily to the trade may be open only from Monday to Friday.
Banks and money
Murano has several bank branches and cash machines where you can obtain euros with your ATM card. Use only "Bancomats" of legitimate banks (avoid for-profit ATMs of Euronet, for example) and don't accept the "conversion" option if it's offered.
---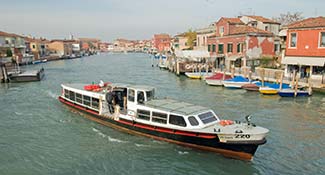 ABOVE: A motoscafo or waterbus of the ACTV.
Murano is easy to reach from Venice by public transportation. Here's how to get there with the ACTV, Venice's transit company:
From S. Zaccaria (just up the waterfront promenade from the Piazza San Marco and the Doge's Palace):
Take the  ACTV's Line 4.2 waterbus, which will take you to Murano by way of the Fondamente Nove and the cemetery island of San Michele in just over 40 minutes. (Or you can ride the Line 4.1 boat, which goes to Murano in the reverse direction via the Giudecca Canal, but the voyage will take nearly an hour.)

When you reach Murano, get off at any stop. (Colonna is handy for glassblowing demonstrations; Museo is close to the Glass Museum and the Basilica of Santi Maria e Donato.)
From the Fondamente Nove (on the north side of the historic center, facing the Lagoon):
Catch the 4.1 or 4.2 waterbus. The 4.1 will get you to the Murano Colonna stop in 10 minutes; the Faro, Navagero, and Museo stops take longer. Alternatively, you could take one of the boats on Line 12 or 13, which require only nine minutes to reach the Murano Faro stop on their way to more distant points in the northern section of the Venetian Lagoon.
From the Piazzale Roma or Ferrovia (the bus and railroad stations):
Ride the Line 3 "Diretto Murano" boat, which takes 17 minutes to reach Murano Colonna from the railroad station. Stay on the boat if you'd rather get off at Faro, Navagero, Museo, or Venier.

The 4.1 waterbus, which is slower than the 3 with local stops along the way.
For more information on ACTV waterbuses, see our articles on Vaporetto Routes and Vaporetto Fares, or use the station-to-station journey planner on the ACTV Web site.
From Venice Marco Polo Airport:
Alilaguna's airport water buses serve various stops on Murano; see our Venice Airport Boat article for more information.
Private transportation:
If you're in a hurry and have money to burn, a water taxi can take you directly to Murano from your hotel (or the nearest canal).
Our sightseeing-excursion partner, Viator, sells escorted tours to Murano and the Lagoon's outer islands.

Murano glass factories and showrooms offer free boat trips to the island for tourists who don't mind being subjected to high-pressure salesmanship. (Look for the touts who frequent busy tourist areas.)
---
Where to stay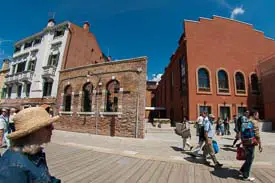 ABOVE: The Hyatt Centric Murano Venice, formerly the LaGare Hotel Venezia (shown on right), is Murano's first four-star hotel. We took this photo from the Murano Museo airport-boat and vaporetto stop, which faces the hotel.
Murano has several hotels that are worth considering for a final night's stay if you have an early flight from Venice, since the Alilaguna airport boats take only 30 minutes to cover the distance from Murano to Marco Polo Airport. Visiting artists and glassmakers can put a strain on Murano's limited accommodations, so book early when possible.
Hyatt Centric Murano Venice
This four-star, 118-room design hotel opened in spring, 2013 under the name "LaGare Hotel Venezia." (See photo at top of page.) It's right next to the Murano Museo waterbus stop, where--from April through October--Alilaguna Linea Rossa boats from Marco Polo Airport stop on their way to the Lido and San Marco in Venice's historic center.

Hotel Al Soffiador
If you're a serious shopper, you may enjoy the convenience of hauling purchases back to this small two-star hotel between visits to the local glass factories and showrooms. The Soffiador has double, triple, and quad rooms with private baths plus a bar and restaurant. (Two rooms are equipped for disabled travelers.)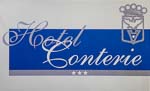 Locanda Conterie
This hotel in the "town house suites" category is a bit cheaper than the Soffiador but has earned favorable guest ratings. It has 26 air-conditioned rooms with ensuite facilities, offers Wi-Fi Internet access, and serves breakfast on a terrace in good weather. You can reach it from the Alilaguna Linea Rossa stop at Murano Museo without crossing any bridges.

Murano Palace
Booking.com guests and TripAdvisor fans give exceptionally high ratings to this B&B in the island's center. The inn is hidden away in a side street near a bridge where you'll see a winged lion atop a stone column. From the Alilaguna Linea Blu airport-boat stop at Colonna, you can reach the Murano Palace without crossing any bridges. (The same boat will take you to or from the Marittima cruise terminals.)
Another excellent place to stay is the Casa Sulla Laguna guesthouse, which is small and inexpensive.
Finally, Murano has a few vacation apartments that can be rented by the night or week. Try the excellent Ca' Mazzega Murano Grand Canal View Apartments, which consist of four holiday flats near the Murano Venier ACTV station.
---
Restaurants and cafés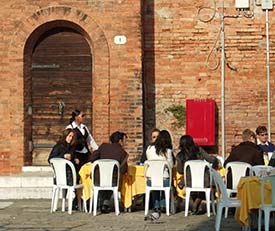 ABOVE: Outdoor dining at Busa alla Torre da Lele in early November. (The highly-regarded trattoria is located on the Campo Santo Stefano and is popular with both locals and tourists. Book ahead by calling +39 041 739 662.)

Murano has a fair number of restaurants, cafés, and bars scattered along its canals, next to the Basilica dei Santi Maria e Donato (right), and on the Campo Santo Stefano across the canal from the San Pietro Martire church.
Some are pricey, but you can easily find snack bars, osterie, pizzerias, and gelato parlors for every budget. Just check the menus before you go inside.
For recommendations with photos, see Michela and Nicoló Scibilia's Comprehensive Guide to the Island of Murano.

If you're really short on cash, you can buy sandwich makings, pizza by the slice, and other snack foods at the two-story, wheelchair-accessible InCoop supermarket and shopping center.  InCoop is near the Colonna Actv boat stop, on the fondamenta that runs south along the canal from San Pietro Martire.
Dining tips:
If you're staying on Murano overnight, ask your hotel receptionist which of the island's restaurants is open in the evening. (Most tourists are day-trippers, so Murano's restaurants take turns staying open for dinner.)

Fish is sometimes sold by weight. If the menu doesn't show a fixed price, know what you're getting (and what you'll pay) before you order.
---
Tourist information
ABOVE: A glass factory's chimney on Murano.
Murano was absorbed into the municipality of Venice in 1924 and is represented by the Venice Tourist Board. The island is small, so you'll find most of the information that you need in this guide or in any comprehensive Venice guidebook.
Murano glassmaking information and courses
To learn more about Murano glass production, visit the industry association's Web sites at www.promovetro.com and www.muranoglass.com. You'll also want to read Marco Piazzalunga's comprehensive article, "The Wonderful History of Venetian Glass Beads and Murano Glass Jewelry."
If you're seriously interested in glass, you can take classes at the Abate Zanetti Glass Center or read about the Experimental Glass Station on Murano. Another option is a 3- to 14-day mosaics class in Venice at Orsoni, which has been making glass and gold mosaics since 1888.
Guidebooks
Most Venice guidebooks have short chapters or sections on Murano. Still, for in-depth advice on the island and its glassmakers, there's no substitute for Michela and Nicoló Scibilia's Comprehensive Guide to the Island of Murano.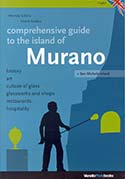 This guidebook has a list price of €19,90 and is available in several languages, including an outstanding English translation by Giles Watson.
The book was published in 2007 and is now out of print, but if you're lucky, you may be able to find a copy at a secondhand bookseller such as Libreria Alta Acqua in Venice's Castello district.
The Scibilias' 162-page book discusses the island's history, the history and techniques of glassmaking, tourist itineraries, the leading glass factories and workshops (arranged by type of production), and hospitality.
The book is richly illustrated with glass photos, aerial pictures, and maps. It's well worth buying even if you aren't planning a trip to Murano but are interested in Murano glass.

We can also recommend Gianfranco Toso's Murano: A History of Glass, which was published in 2002 by Arsenale Editrice of Venice.
The inexpensive 190-page book is printed on quality paper and filled with beautiful color and black-and-white photographs.
 In Venice, look for Murano: A History of Glass at museum gift shops, larger bookstores, Amazon.com, or the publisher's own store (Bookshop Arsenale Punto Libri, San Pantalon, Santa Croce 29).
Another book to consider is Carl I. Gable's Murano Magic, which is based on content that formerly existed on Mr. Gable's Murano Magic Web site.

One of our favorite Venice coffeetable books, Venice Master Artisans by Cristina Gregorin and Norbert Heyl, has profiles of leading Murano glassmakers. (See our illustrated review.)
Finally, don't miss Venice (U.S. title: The World of Venice), by Jan Morris (formerly James Morris). The noted British travel writer's entertaining blend of history, social commentary, and personal narrative is the definitive "must read" introduction to Venice and Venetians. The author's comments on Murano glass and factories are well worth reading.
---
Repairing and restoring Murano glass
ABOVE: Murano glass bottles from different eras.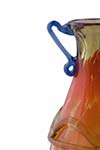 We often get e-mails from readers who want us to repair, replace, or make replicas of their broken glassware, light fixtures, and other objects from Murano. Sorry, folks, but we aren't glassmakers, Murano glass dealers, or even glass collectors--we're writers who publish a European travel-planning site.
If you're looking for an item to replace a broken glass object, your best bet is to visit Murano (or Venice) and find a substitute that you like even better.
The island and city are dotted with glass galleries, shops, and factory showrooms that offer goods in every price range, so it's unlikely that you'll go home empty-handed.
If you must have an item repaired, or if you insist on commissioning a replica, we'd suggest contacting the original supplier or reading one of the books described in this article's Guidebooks section above to find a vendor that handles that type of item and accepts custom orders.
Another possibility is to contact an antique dealer or the glass curator at a museum to find a restorer within your own country.
Or read "Put a Crystal Vase Back Together" in The Washington Post, which listed two repair services in the United States when it was published a few years ago.
Warning: Restoration or custom replacement won't come cheap, so you might be better off buying a substitute on eBay if your object isn't valuable and you're strapped for cash.
Glass classes
The Scuola del Vetro Abate Zanetti offers training courses in glassblowing and other glass-related techniques for serious students who have time and money to spare.
Orsoni offers "Master in Mosaic" courses of 3 to 10 days at the Angelo Orsoni mosaic factory in Venice's Cannaregio district, which is a quick trip from Murano by public water bus. (Orsoni has been making mosaics since 1888. Its mosaics are in Venice's Basilica di San Marco, Barcelona's Sagrada Familia church by Antoni Gaudi, Rudolf Nureyev's Tomb in Paris, and the Golden Buddha in Sing Buri, Thailand.)
If you'd just like to spend a couple of hours making jewelry with Murano glass beads, check out Viator's Private Tour: Murano Glass Workshop.
Next page: More Murano photos